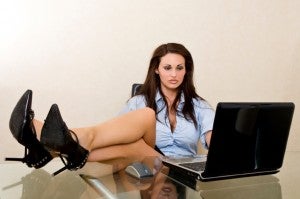 You have to love it when somebody bothers to give helpful advice to professional women. Advice like: don't wear stiletto heels and show a lot of cleavage at work. How are ladies supposed to dress themselves without these helpful tips?
There's a memo going around that was sent out by Loyola Law School in Los Angeles. It could probably be summarized as the "don't be a hooker" memo...
A couple of months ago, Above the Law got a memo from a law firm warning women not to "giggle" at work. But that was from an employer. At the law school level, they're still trying to teach ladies the basics.
Here's the fun slide from Loyola's "Ethics, Professionalism and Course Requirements for Off Campus Externs" memo:
On Above the Law, my colleague Staci Zaretsky says: "We'd love to know how many complaints were received that this information needed to be presented to students in such an incredibly condescending way."
In case you are wondering, no, the male law students did not receive a similar memo warning them to zip up their fly or reminding them to manscape before the company softball game.