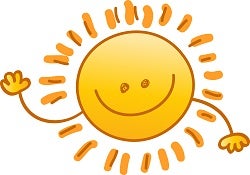 Everybody is used to taking a vacation from work, but what about taking a vacation to work? That's exactly what one company is offering their employees: They'll give you $2,000 to go anywhere you want, and work like you're in the office...
Citing the "dreary" winter conditions across most of the country, the law firm Quinn Emanuel Urquhart & Sullivan has come up with a new program for its hard-working attorneys. It will give attorneys $2,000 to go "anywhere in the world" with a group of their colleagues for a week. During that week, they're expected to work just as hard as they would be if they were at the office. But they can be working from a swim-up bar in Grand Cayman, or a beach in Phuket if they like.
They just better have a stable internet connection. A firm wide memo explains:
there are rules: there must be 24/7 connectivity wherever you go. you must be available at all the hours you would be available if you were in your home office. you are expected to continue working and be available just as you would if you were home... we need to know how to reach you at all times, instantly.
You can read additional details about the program, here.
It's certainly possible that this plan could lead to increased worker productivity. We already know that working from home probably isn't the most effective strategy. But lots of people do work from home, especially during snowstorms, polar vortexes, and whatever kind of hellish, Day-After-Tomorrow-weather is waiting for us in February. Even if people don't stay home, there is a lot of lost time associated with commuting to work during inclement weather.
Would you rather have half your office trying to hail a dogsled team to get into work, or do you want people working with a WiFi hotspot in a business center? The Quinn program requires people to go away with a group of colleagues. As long as they bring along at least one narc, the chances of the entire group blowing off work to go on a banana boat ride seems small.
And even if people slack off a bit, it might be a small price to pay to stem the tide of seasonal affective disorder around the office.
Quinn Emanuel Will Pay To Make Associates Go Away For A While [Above the Law]