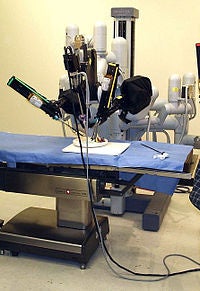 Intuitive Surgical makes the da Vinci robotic surgery device. It's been approved by the FDA to perform various laparoscopic procedures. But sometimes it gets a little over eager. A faulty "tip cover" that was voluntarily recalled caused the machine's lasers to burn into tissue that was not being operated on, resulting in serious injury and sometimes death.
I'm sure if da Vinci could talk, it would say, "I am sorry I have burned through your uterus. Please contact these human professionals for your medical and legal options."
Unfortunately, da Vinci doesn't have a self-incrimination mode, and apparently the people running Intuitive don't either. Shareholders in the company have filed a lawsuit against Intuitive claiming that the company under-reported serious injuries to the FDA, causing a precipitous drop in share price...
Shareholders claim that the Intuitive board's shenanigans with FDA reporting protocols caused the share price to drop from $573 to $393 per share. Shareholders claim that in addition to not filing some injury reports, Intuitive allegedly misclassified many "serious" injuries as "other" to hide the seriousness of da Vinci malfunctions. From Courthouse News Service:
In September 2012, the FDA met with Intuitive regarding its inaccurate medical device reports, according to the complaint. It ordered Intuitive to report adverse events correctly and code them properly as "injury" or "serious injury" in the Manufacturer and User Facility Device Experience, or MAUDE, database, which houses all medical device reports submitted to the FDA.

The shareholders say the number of medical device reports "increased exponentially" after this meeting, prompting the FDA to launch a safety probe into Intuitive and to issue a warning letter citing it for concealing patient injuries due to product defects in violation of the Federal Food, Drug & Cosmetic Act.
This under-reporting seems to be significant. We're not talking about a few clerical errors:
Reclassifying these events caused the number of serious injuries from da Vinci surgeries in 2012 to nearly double from 70 to 131, and incident reports for 2000-2012 "skyrocketed" to 4,603, according to the complaint.

That number climbed to 9,839 after an additional 5,236 cases were reported in 2013, though it is almost impossible to deduce how many were new cases and how many were backlogged from 2000-2012, the complaint states.

Death and injury reports also swelled from approximately 10 a month from August 2011 to August 2012 to 62 a month from September 2012 to December 2013, "a more than six-fold increase," the complaint states.
Is somebody getting these machines drunk? There are Storm Troopers with better laser precision than that.
Before machines fully take over for surgeons, we need to make sure machines fully take over FDA compliance.