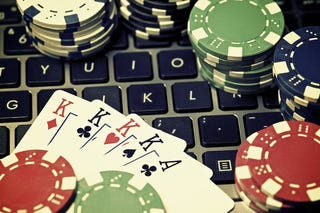 It is pretty damn good to be a Republican right now. The GOP controls both the House and the Senate, it owns more than half of the gubernatorial seats in the nation, Obama is close to a zero percent approval rating, and 9/11 truther Pete Carroll kept Marshawn Lynch from being the Super Bowl MVP.
Seriously, could 2015 be any better for the old elephants?
Well, maybe if they eliminated one of the greatest evils plaguing our great nation. No, not gay marriage or abortion. We're talking about Internet gambling, particularly that sinful game of poker.
Yes, this is what our elected officials are wasting time on. Not ISIS, the economy, or student loan reform. Nope, now that they control the legislative branch the Republican party is taking aim at Internet poker.
Representative Jason Chaffetz (R-Utah) reintroduced a bill from the summer this past week to impose a federal ban on all forms of online wagering. Forget the irony that one of the most conservative Congressmen wants to impose the big bad federal government's will on states such as New Jersey, Delaware, and Nevada, who have already legalized online gaming. Instead, consider the consequences — no poker, no sports betting, and potentially no fantasy sports.
Rep. Chaffetz's bill, known as the Restoration of the Wire Act (RAWA) would roll back a 2011 Department of Justice memo that held that the Wire Act of 1961, the law that prohibits transmitting wagers over wires (phones, fax, Internet, etc), applies only to sports and not to other forms of gambling.
That 2011 Justice Department decision opened the doors for states to permit online gambling in addition to horse racing, fantasy sports and other games. Eric Holder's decision was a momentous shift in the federal government's interpretation of the Wire Act and the Unlawful Internet Gambling Enforcement Act of 2006 (UIGEA).