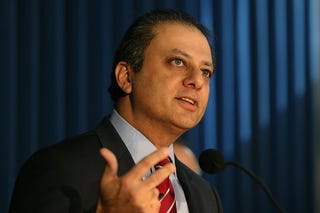 Preet Bharara is cleaning up the streets of New York, one previously untouchable, corrupt politician at a time. Right now, Bharara is everything Eliot Spitzer paid hookers to tell him he was.

His latest scalps are New York Senate Majority leader Dean Skelos and his son, Adam. Skelos rose to power after former Republican leader Joe Bruno imploded. Bharara alleges that the elder Skelos enacted a plan to "monetize" Skelos's leadership by funneling payments to Adam.
It's embarrassing to the Skeloses, and really all of New York. We deserve criminals who are better than getting caught using a burner phone to say things like this:

"You can't talk normally because it's like f- -king Preet Bharara is listening to every f- -king phone call," Adam whined to his dad on March 28, according to the criminal complaint. "It's just f- -king f​r​ustrating​."​
Marlo Stanfield is sad for you, Adam Skelos.

The details of the alleged corruption scheme are fantastic. Dean Skelos allegedly promised to use his position to help AbTech Industries obtain favorable regulations for their hydrofracking operations in Nassau County, Long Island, back in 2013. AbTech (which is cooperating with Bharara's investigation) allegedly paid Adam Skelos $200,000 over the past two years for such favorable treatment. The result: New York Governor Andrew Cuomo banned hydrofracking in New York State at the end of 2014.
If you are going to sell your influence, you'd best be... influential.

Here's some financial advice: If you are a company with $200,000 to buy someone in New York State, the man you want in your pocket is Preet Bharara. I know he's a "lawyer" and not a "politician," so he doesn't seem like he's the guy to curry favor with. But he's the only public figure in New York you should be scared of. Cuomo is weak and will never be President. Bill de Blasio is two steps away from becoming the Robert Gould Shaw of city mayors — cops hate him just as much as they hate black people. Chuck Schumer is going to be the Senate Minority Leader and won't talk to you unless you are a multinational behemoth headquartered in lower Manhattan. Kirsten Gillibrand is more Tyrell than Lannister.
But Bharara is going Lord Baelish in the Five Boroughs. He knows where the bodies are buried. He's the one burying them.