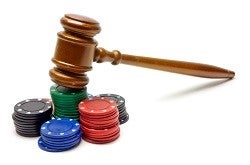 Of course it is. Every year, people wonder if gambling on March Madness constitutes "illegal gambling" and every year I say "is there any other kind" like I'm Col. Nathan Jessup.
Not that you should care. Paying an "entry fee" into a bracket challenge is illegal — whether you pay that money online, offline, with friends, or with strangers — regular people do not get busted for the transgression. That's not because the law isn't clear, the law could not be more clear.
But, given the giant hypocrisy of our gambling laws, it doesn't seem like anybody needs to worry about running afoul of these laws every March...
Let's start with the basics. City University of New York law professor and sports law expert, Marc Edelman, has a definitive article on the illegality of many bracket pools:
[A]... federal law that may disallow online, pay-to-enter NCAA Tournament pools is the Uniform Internet Gambling Enforcement Act. This act, which was passed most recently in 2006, makes it illegal for those "engaged in the business of betting or wagering" to "knowingly accept" funds in connection with the participation of another person in unlawful Internet gambling.
There's also the Professional and Amateur Sports Protection Act ("PASPA") which makes it illegal for "any private person to operate a wagering scheme based on a competitive game in which "professional or amateur athletes participate." And of course there are a ton of state laws that ban private games of chance. Sure, you may think that you "have a system" for filling out your bracket, but in most states predictions fall under the chance guidelines.
You can see how major corporations get around all of these laws. Warren Buffet's bracket challenge doesn't require an entry fee. Tons of websites will let you set up your bracket on their sites, and who can say if you happen to charge people offline to enter. If only Napster had been tacitly backed by the NCAA oligarchy, perhaps their "it's not our fault people do illegal things with our technology" defense might have worked.
Of course, the NCAA, CBS, and everybody else who makes money off of college basketball want you to gamble on the tournament. That's why nobody ever gets busted. There are so many people making money because people suddenly become "interested" in college basketball around this time of year that a prosecutor who went after NCAA pools would find himself buried under MetLife stadium.
Make no mistake, putting $20 bucks in the interoffice mail to get into your job's bracket pool is illegal. But there's no risk that Eliot Ness is going to show up at your barber shop. I just think that March Madness proves that people don't give a crap about following the law, they're only afraid of the punishments if they get caught breaking the law.