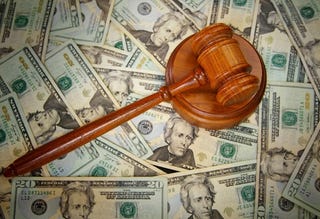 What law firm wants to be seen in public with Donald Sterling? Well, let me rephrase the question: What law firm wants to be seen with Donald Sterling's money?
Yeah, that's what I thought. Sterling, a former ambulance chaser before his illustrious career as a slumlord and NBA owner, will not lack for legal representation. Hell, if black NBA players and coaches took Sterling's money, can you imagine how positively thrilled the lawyers will be to do the same?
And Sterling has a bit of a case. Can a rich, racist white man be drummed out of his rich white man association just because he was illegally recorded being as racist as everybody already knew him to be? Really good lawyers will be happy to make that case.
For a fee. Will the notoriously cheap Sterling pony up for one of the best law firms in the country?
The New York Daily News reports that Sterling is considering a couple of high-profile law firms to help him fight the NBA.
One firm Sterling is reportedly considering is Glaser Weil. Glaser Weil is a big time entertainment firm. The firm is famous for representing Conan O'Brien and Keith Olbermann. But its lawyers also have some experience representing racist white people: the firm represented Paula Deen.
Glaser Weil's attorneys are kind of specialists in this area: think the J.J. Reddicks for famous people in trouble. But for sheer, Blake Griffin style force of nature legal dunking skills, it's hard to beat Quinn Emanuel Urquhart and Sullivan. Sterling reportedly put in a call to them as well.
You might have heard about Quinn for their representation of the Washington Redskins against various people who would punch you if you called them "redskin" to their face. So the firm has its "will help racists" bona fides.
Lawyers know Quinn because the firm ranks second on the list of "profits per partner," which arguably makes Quinn the second most profitable firm in America. Quinn don't come cheap, yo. But when they come, they come strong.
But the NBA will not be outgunned. Reports indicate that the NBA will retain Skadden Arps for any Sterling-related defense. Skadden ranks 13th on that profits list. And Skadden is also one of the largest and most prestigious firms in the land. That firm throws man hours at a project like they're building a pyramid in Egypt.
This should be fun. And by "fun," I mean "ridiculously profitable for all attorneys involved."
Adam Silver v. Donald Sterling: A Tale Of Two Lawyers [Above the Law]