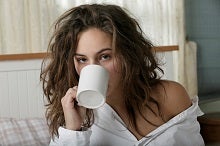 Washington's thriving coffee porn industry is starting to piss off the neighbors. If an ordinary sense of shame doesn't prevent people from driving to a place where a half-naked woman serves you coffee, the police are about to try...
Apparently, the Pacific Northwest is full of red-light, drive-thru coffee shops. Because nothing says "I have nobody in my life" quite like paying somebody to create the illusion of having a partner who loves you enough to share a cup of coffee with you in the morning.
The "XXX" coffee kiosks have come under fire recently. Sadly, Starbucks isn't involved so we're not getting a crazy cease and desist letter. But law enforcement in Washington are worried that the women are either wearing too little, or providing more than "coffee" at their establishments. It feels like this is all some kind lame set up to a Cinemax movie, but local regulators are trying to stop these places. They've banned pasties in Spokane Valley because the coffee shops were using them as part of "topless days." From the Wall Street Journal (sub. req.):
Spokane Valley's City Council imposed a ban on wearing pasties in coffee stands after parents, businesses and school officials protested over what the owners billed as "topless" days at the XXXtremeEspresso stand. The complaint: The nearly nude baristas were in full view of kids bused to and from a nearby middle school.

Sarah Birnel, the stand's owner, considers the dispute a nuisance. "We're not wearing much more now" since the ordinance passed, but the ban has cut sales on the "topless" days in half, the 31-year-old business owner said.
Passing dress code laws to reflect a sense of public morality is always a dicey question. It's never obvious what people should be "allowed" to wear once you give up the intellectual simplicity of "whatever they want." Birnel is a business owner, she's come up with a way to sell her business, it's not her fault that sad men will drive to get this. We couldn't even come to a national consensus about what Katy Perry should be wearing on Sesame Street, it's futile and dumb to expect the law to adequately proscribe what Birnel can and cannot wear while selling coffee.
But the law can make sure that the product is "coffee" and not "sexual intercourse." It can try to make sure that the half-naked women selling coffee are not also being pressured to sell themselves:
In Everett, concerns have moved beyond what employees are wearing. Earlier this month, Everett police arrested Carmela Panico, the operator of a chain of adult-themed coffee stands, for alleged witness tampering and intimidating a witness. Police say she threatened an employee whom authorities planned to question about alleged prostitution...

An affidavit for a search warrant filed last June with the Superior Court of Washington for Snohomish County describes instances of baristas allegedly asking undercover detectives if they "wanted a show" after a $20 bill was proffered for a $7 cup of coffee—apparently a signal customers had devised to solicit lewd behavior. The "show," detectives wrote, was a quick exposure of body parts.

After Federal Bureau of Investigation agents installed surveillance equipment, Everett police say they witnessed explicit acts of prostitution. Detectives wrote they observed one 23-year-old barista leave to meet a motorist in a pickup truck that had just left the kiosk. When the barista exited from the truck, they said, "The driver gave [her] what appeared to be cash."
If "hot coffee" is a metaphor for sex, there's little law enforcement can do. If it's a code word for prostitution, well law enforcement has to do something. Even if you think that prostitution should be legal (as they're trying to do in Canada), there's still a legal interest in preventing non-prostitutes from being forced into the trade.
Hopefully, stopping the prostitution and the intimidation of women into prostitution is where local lawmakers focus their energies. Uptight city councils can voice their outrage at these women using sex to sell products while enjoying a meal at Hooters. But when it comes time to passing local laws and ordinances aimed at protecting the community, let's hope they aren't so dazzled by breasts that they forget to actually protect people.
Did Anybody Notice That Prostitution Is Like "Not Illegal" In Canada? [Above the Law]
The Greatest Response To A Cease And Desist Letter, Probably Written While Drunk [Above the Law]