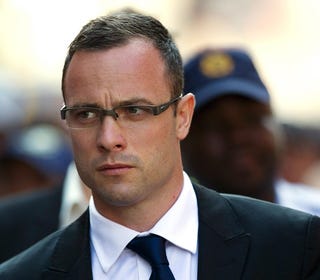 Okay, normally when somebody calls you crazy, it's not a good thing. But life is anything but normal for Oscar Pistorius. The disabled Olympian is nearing the end of his trial for killing his girlfriend, Reeva Steenkamp.
In a surprise and unconventional move, prosecutors now want the judge to order Pistorius to undergo an independent psychiatric evaluation. It seems like they're trying to set up an insanity plea... which interesting because Pistorius is not pleading insanity.
When prosecutors start offering other defenses for your actions, that's got to be a good sign, right?
Apparently, South African prosecutor Gerrie Nel spent Monday grilling psychiatrists testifying to Pistorius's mental state. Pistorius is accused of shooting his girlfriend. The defense has argued that he thought Steenkamp was a burglar. The defense was trying to show that because of Pistorius's amputations, his "fight or flight" response is different than most people. He fears he can't get away, and so he fights.