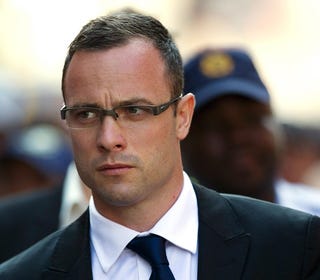 Okay, normally when somebody calls you crazy, it's not a good thing. But life is anything but normal for Oscar Pistorius. The disabled Olympian is nearing the end of his trial for killing his girlfriend, Reeva Steenkamp.
In a surprise and unconventional move, prosecutors now want the judge to order Pistorius to undergo an independent psychiatric evaluation. It seems like they're trying to set up an insanity plea... which interesting because Pistorius is not pleading insanity.
When prosecutors start offering other defenses for your actions, that's got to be a good sign, right?
Apparently, South African prosecutor Gerrie Nel spent Monday grilling psychiatrists testifying to Pistorius's mental state. Pistorius is accused of shooting his girlfriend. The defense has argued that he thought Steenkamp was a burglar. The defense was trying to show that because of Pistorius's amputations, his "fight or flight" response is different than most people. He fears he can't get away, and so he fights.
The prosecution has argued that Pistorius was fighting Steenkamp, and knew what he was doing when he shot her. But in response to the psychiatrist's testimony, Nel pivoted to arguing that Pistorius lacked "capacity" because of the trauma of losing his legs. From CNN's report:
Nel responded by comparing the athlete's mental state to post-traumatic stress disorder and saying the law required psychiatric observation.
I'm just playing armchair South African lawyer here, but it seems to me that if your theory of the case is that an angry and combative Pistorius shot his girlfriend, calling for a last-minute psychiatric observation is a bit of a Hail Mary.
South Africa doesn't use a jury system, and it's unlikely Judge Thokozile Masipa will be confused or prejudiced by this latest bit of lawyering. But I think it's telling that here at the end, the prosecution wants an evaluation that would delay a final verdict for months, while the defense is resisting and trying to push forward with their mistaken identity/accident theory.
Most of the time, prosecutors aren't the ones pushing diminished capacity at the end of a trial.