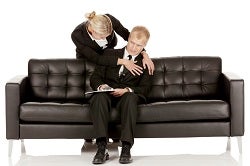 When woman-on-man sexual harassment happens, it happens pretty much the same way as man-on-woman harassment. There's no special "this wouldn't be harassment if she were hot" exception. Simply put, once you start offering your male coworkers a sample of your "duck taco," you are creating a hostile work environment...
In May 2012, James Gist filed a sexual harassment claim against his boss, Galveston County Constable Pam Matranga. You can read the full complaint here. At the time, the Houston Press said the complaint contained, "some of the worst euphemisms for female genitalia [they've] heard." In addition to the sexual innuendo, Gist complained that Matranga forcibly pushed his head between her breasts.
The law moves slowly, but on Friday, a jury awarded $567,000 in damages to Gist. The jury gave Gist $200,000 more than he asked for! Gist's lawyer says that the verdict proves the jury "rejected this whole notion that you get away with it because you are a female."
Sure, but I don't think there was ever any doubt that you can't get away with this kind of stuff "just because you are a female." I think the question is whether a woman complaining of the same workplace behavior would have gotten $200,000 over asking price. Or would she just be told that "boys will be boys," and to ignore comments about various "Johnsons."
Here's the real kicker: because Matranga was a government employee, it'll be Galveston County who is picking up the bill for her behavior. It's like Matranga motorboated all the citizens of Galveston.
Ride 'Em, Cowgirl! Lawsuit Claims Texas Constable Forced Deputy to 'Motorboat' Her Breasts [Above the Law]
Man Receives $567K In Damages After Being Forced To Motorboat Woman's Breasts [Above the Law]