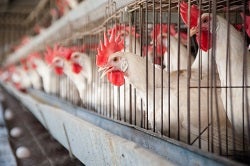 California has a new law, set to take effect in 2015, that bans the inhumane confinement of egg-laying hens, pigs, and veal calves. Missouri doesn't want to deal with these hipster hens. Now, middle-America farmers are trying to force California to accept eggs from their constricted chickens.
And Missouri has a good, if horrible, case...
California passed "Proposition 2" back in 2008. The law banned cages that were so small that the animals couldn't turn around, lie down, or stretch their limbs. It's hard to understand people who don't think these basic humane regulations are good. Even if you are excited to eat these delicious creatures, you have to be a dick to want them tortured on their way to your plate. And California knows something about dicks who torture out-of-state birds.
The California law survived a constitutional challenge from California farmers who didn't want to pay the extra costs for the improved cages. A federal court in California said, "the mere fact that Plaintiff dislikes or disagrees with the policy or language of Proposition 2 is not sufficient to sustain a Constitutional challenge." The Humane society, to say nothing of chickens and pigs and calves everywhere, approved.
But a new constitutional challenge from the state of Missouri is more problematic. It turns out that a third of Missouri's eggs are sold in California. California can decide how their own farmers treat their animals. But California also passed a law saying that all eggs sold in California have to meet Proposition 2's standards of confinement. That law is pretty clearly protectionist: California doesn't want their own farmers at a disadvantage when selling eggs, and so they're trying to make Missouri (and any other state) meet California's pricey regulations.
Missouri is arguing that California has no right to dictate to them how their omelets (or Chicken McNuggets) are made. Because the eggs are sold through interstate commerce, the federal government has the responsibility to make laws on the treatment of hens in Missouri that produce eggs for California.