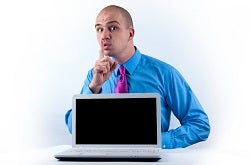 Insider trading can seem very complicated, but it's not really. You get what's called "material non-public information," which happens all the time when you work at an investment bank, and you use that information to make money. It's a simple crime.
Getting away with it is the tough part, especially if you are dumb or greedy. The FBI accuses Frank Perkins Hixon Jr. of being both...
Hixon Jr. worked at an investment bank named Evercore. He became aware of the earnings of his own company. He also learned that a company called Titanium Metals Corporation would be acquired because his team worked on the acquisition. Then, at the height of greed, Perkins decided to use this information to make money before the public was told about the news. Again, insider trading is a really simple crime.
Dealbreaker explains that in order to "hide" his trading, Perkins allegedly placed trades in two accounts: his father's, and his ex-girlfriend's (who is the mother of his child). Evidently, the FBI has access to Ancestry.com, because they were able to see through this ruse.
But when confronted with these allegations, Perkins had an interesting excuse. From Bloomberg:
To be fair, Hixon has some great excuses, claiming that he "did not know" [ex-girlfriend Destiny Wind Robinson] "by the name appearing on the [Financial Industry Regulatory Authority (Finra)] Titanium List but knew her instead by her preferred first name," which is Nicole. Also, he points out that his father lives in Johns Creek, Georgia, not in next-door Duluth, which is where Finra's Frank P. Hixon Sr. was listed as living. Uhhh ... okay? This sounds like a magic-words theory of criminal liability, something like "You asked me if I knew Frank P. Hixon Sr. of Duluth, Georgia, but I only know a Frank P. Hixon Sr. of a suburb of Duluth, Georgia, and there are a lot of Frank P. Hixons walking around, including me. So I said no, gotcha."
Clearly, Hixon Jr. should have just traded under his kid's name. The FBI would have never figured that out.
Executing Insider Trades In An Account Set Up Under Baby Mama's Name Not The Fool-Proof Plan Ex-Evercore Director Thought It'd Be [Dealbreaker]