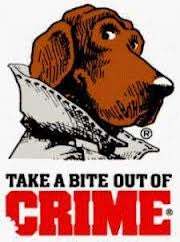 Do you guys remember McGruff? He used to say "take a bite out of crime." He used to come to your school in a trench coat, and would-be hardened criminals were scared that day! Nothing says "stop downloading music illegally" like a talking bloodhound.
Anyway, one of the actors who used to dress up as McGruff was sentenced to jail last week. I'm sure many random mascot actors have gone to jail for all sorts of reasons, but this dog is special...
CBS Houston reports that John Morales, a former McGruff the Crime Dog actor, was sentenced to 16 years in the pokey after pleading guilty to possession of various things:
[P]olice seized 1,000 marijuana plants, 27 weapons – including a grenade launcher, and 9,000 rounds of ammunition from [Morales'] home.
So, McGruff sure doesn't want to take a bite out of the Second Amendment.
In fairness, a dog with a grenade launcher and 9,000 rounds of ammo might have scared me into never trying weed.
Is The Second Amendment Racist? [Above the Law]