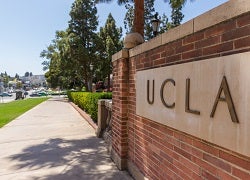 Imagine going to your student mailbox and getting a note that reads, "Stop being a sensitive n****r." Now imagine you're not in Mississippi, or even Arizona, but in sunny, progressive, Southern California.
That is allegedly what happened to one UCLA Law student, but it was just the capstone on a series of racial slights...
Racial tensions at the law school started heating up last semester. Students at the school started wearing "Team Sander" T-shirts in support of a law professor named Richard Sander. Sander's scholarship is racially charged. I know it seems weird to call a T-shirt a starting gun for racial unrest, but you're going to have to trust me. Here's a whole post about it, in case you are interested.
In response to the T-shirts, black students on campus organized an awareness campaign to bring attention to the racial divisiveness on campus. They made a very nice YouTube video expressing their concerns. The students argued that they don't feel "safe" on the UCLA Law campus.
For reasons passing understanding, the video pissed a lot of people off. Undoubtedly, some, but not all, of the people who didn't like the video were also in fact racist. That subset of students decided to take things to a whole different level.
Students started ripping down posters and flyers put up by the Black Law Students Association on campus. One black woman complained that a white student stopped her in an elevator and questioned her about her "crime-ridden neighborhood." The crescendo was the "n-word" note that was left in a student's campus mailbox last week.
Black students on campus have been annoyed by the slow response of the UCLA administration. But, they're also Millennials, so they've taken to that most digital form of protest — changing their Facebook profile pictures to this:
I asked UCLA Law dean Rachel Moran about this controversy. She told me:
After we learned that someone had left a racially intimidating note in one law student's locker, I sent an email out to the entire student body of the law school saying that that I was "appalled, deeply disappointed and profoundly pained" by this unfortunate incident... The UCLA police are investigating.

I have also personally emailed the student who was victimized, and my administration has been actively reaching out to black and minority law students to address their feelings of alienation and isolation.

We recognize that racial issues exist across the campus, not just in the law school. In fact, just today Chancellor Block issued a special announcement about the need to redouble our diversity efforts in the wake of Proposition 209, which prohibited affirmative action in admissions at any public college or university in California. At the Law School, my staff and I are taking concrete steps — such as workshops, vigorous outreach and curricular reform — to advance diversity and racial tolerance so that we can enjoy civil dialogue about these very sensitive issues.
I said on Above the Law that the first step has to be trying to find the student who is now threatening other students, and expel them. After that, UCLA can have some "dialogue" about how things have gotten to this point.
But it's really not on black UCLA Law students to be "less sensitive," so much as it is on racist UCLA Law students to be less racist. There are a lot of UCLA kids, of every race, who have figured out how to learn in a multicultural environment. It's the racists who are in the "minority" and need to realize that nobody is going to "tolerate" their beliefs.
Racists' T-Shirts On Campus? Only If You Bother To Think About It [Above the Law]